Remembering 9-11-01.
We will not forget!

The Police Garage


---


The Engine Pool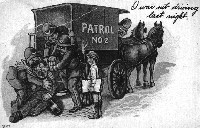 The way it was done long, long ago. 1904 post card.



Chicago PD Patrol "automobile" circa 1911.

Early patrol wagon

1920s Paddy wagon, Chicago Police

A 1938 photo of an Ashtabula, Ohio squad for a local tire company advertisement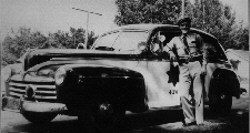 This 1947 photo shows a Colorado Courtesy patrolman proudly showing
off his squad.



Two Homestead, Pennsylvania officers chit-chat on a city street, prob'ly discussin' the advantages of the Chevy 3800 Patrol Wagon.



1930's Englewood, Colorado cops show off their coppermobile in front of City Hall. Get outta the way boys, so we can see the darned thing.



Now the whole department gets into the act in Englewood, Colorado. 1937



The last ride. Officers salute as Police Captain Michael Brennan is carried to his hearse in Cambridge, Mass., 1930's. A note on the back of the photo says Brennan died as a result of a beating. Nothin' ever changes except the look of the cars.....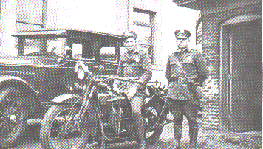 1920s Illinois Highway Police
The Station House, Police Badge Network, Copyright © 2011, Dave Arnold. All rights reserved. The photographs, graphics and data contained in this Web site are the properties of the contributors, Dave Arnold, badgesource.com or copcar dot com and may not be used without expressed written consent.